Kadampa Meditation Center Texas (KMC Texas) is a diverse, warm, and vibrant spiritual community. People from all backgrounds come to find solutions for the challenges of busy, modern life and draw inspiration from Buddha's teachings, the practice of meditation, and spiritual friendships.
At KMC Texas our strength is our faith- our faith in each other's essential goodness and compassion. Our strength is in our diversity and we are proud to reflect the many communities throughout the Metroplex. We believe that no matter our background, beliefs, or experiences each and every one of us can improve ourselves for the benefit of our families, communities, and the world.
Join us in achieving inner peace and happiness through the practice of meditation and using Buddhist teachings in daily life.
History
We were established in 1994 by the renowned Buddhist Master Venerable Geshe Kelsang Gyasto Rinpoche. We moved to our current location in the Dallas West End in February 2017, after 10+ years in Arlington and previous locations in Irving and East Dallas.
KMC Texas is a part of the New Kadampa Tradition- International Kadampa Buddhist Union, which is a world-wide organization of Kadampa Buddhist meditation and study centers, temples, and retreats centers.
Coping With a Stressful World Through Meditation
Watch a news story from NBC 5 about KMC Texas and the positive power of meditation. Click Here.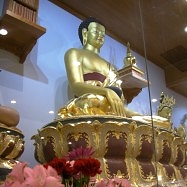 Many of our classes are drop-in meditation classes. No registration is required and everyone is welcome. These classes are perfect for beginners as well as those with more experience. They provide an introduction and on-going practice of meditation, mindfulness, and Buddhist teachings for daily life.
Throughout the year, we also offer Saturday and Weekend courses as well as retreats. When we reduce our distractions and focus more deeply on spiritual teachings and meditation, even for one day, we begin to see how cultivating a more peaceful state of mind is possible.
Our special events are a great way to meet other like-minded people and become connected to a spiritual community!
We also offer enrollment-based study programs for those wishing to go deeper into understanding and practicing Buddha's teachings. Open to all levels, these classes occur on a weekly basis and enrollment is required.
Some classes have fees and some are by donation, however no one is ever turned away for lack of funds. Just contact us if you have a financial hardship.
Visit these links to see what classes are happening right now, and what is coming up at our Center.
>> Drop-In Meditation Classes
>> Day Courses, Retreats & Events
>>Family and Kids Activities
>>En Espanol
Gen Kelsang Menla
Resident Teacher
Gen Kelsang Menla has studied under the guidance of Venerable Geshe Kelsang Gyatso Rinpoche for over 20 years and was requested by him to become the Resident Teacher of Kadampa Meditation Center Texas in June 2017. Gen Menla was ordained as a Kadampa Buddhist monk in 2001 and has worked and taught within the New Kadampa Tradition for many years. He brings a warm heart and joyful attitude to sharing Buddha's teachings and the practice of meditation.