Timeless Wisdom
The founder of Buddhism in this world was Buddha Shakyamuni who lived and taught in India some two and a half thousand years ago. Buddha explained that all our problems and suffering arise from confused and negative states of mind, and all our happiness and good fortune arise from peaceful and positive states of mind. He taught various methods of meditation and spiritual practice for gradually overcoming negative states of mind such as anger, jealousy and ignorance, and developing positive minds such as love, compassion and wisdom. Through this we will come to experience lasting peace and happiness.
These methods work for anyone, in any country, at any age. Once we have gained experience of them for ourselves we can pass them on to others so they, too, can enjoy the same benefits. The Buddhist way of life – peace, loving kindness and wisdom – is just as relevant today as it was when Buddha appeared in ancient India.
Our Modern Day Tradition
The New Kadampa Tradition–International Kadampa Buddhist Union (NKT-IKBU) is an international association of Mahayana Buddhist study and meditation centers founded by Venerable Geshe Kelsang Gyatso to offer the practical wisdom of Kadampa Buddhism to the people of the modern world.
It is an entirely independent Buddhist tradition with no political affiliations and follows a pure tradition of Mahayana Buddhism handed down in an unbroken lineage from Buddha Shakyamuni through the ancient Kadampa teachers Atisha and Je Tsongkhapa and introduced into the West by Geshe Kelsang Gyatso.
With 1200+ centers and branches worldwide in 40 countries, our rapidly growing tradition is an international spiritual community, offering support, inspiration and encouragement for this joyful and profound spiritual path.
Kadampa Buddhist Festivals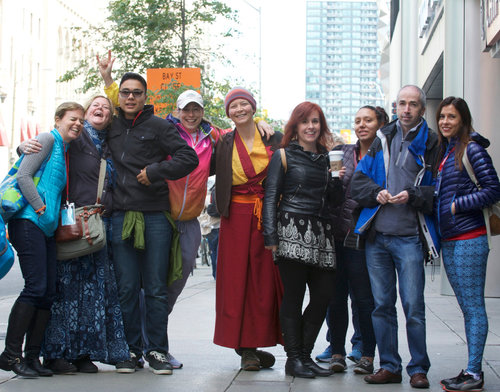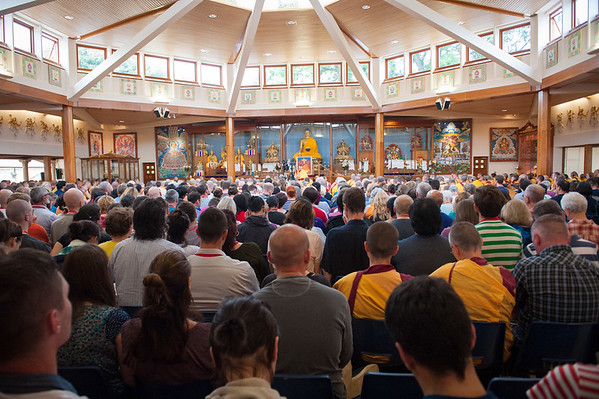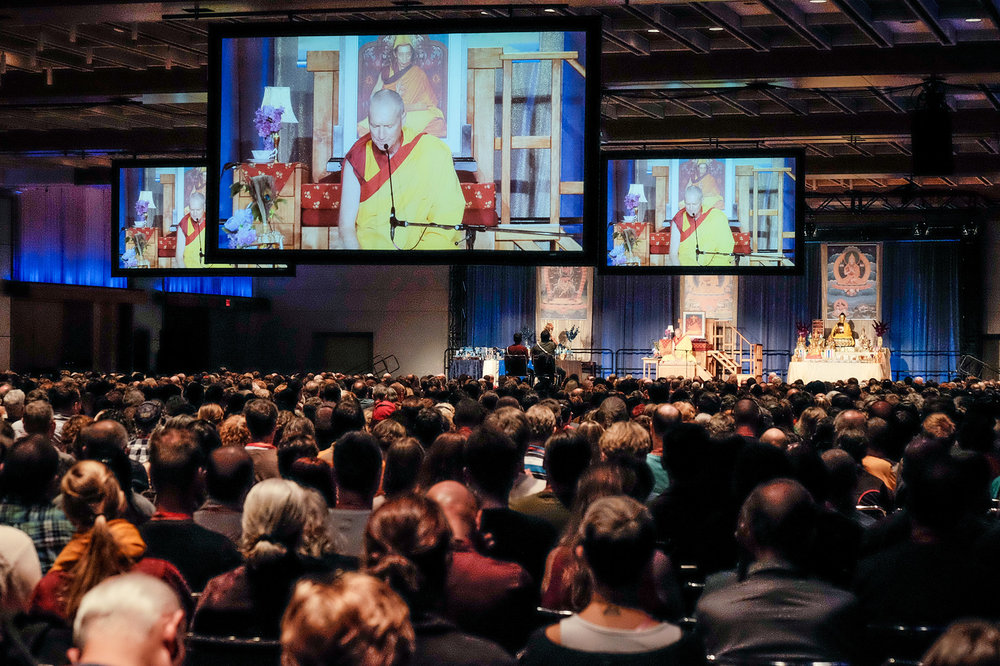 Regional, national, and international gatherings, called Dharma Celebrations and Festivals are held throughout the year. They are inspiring events where you meet with like minded people and get immersed in the experience of spiritual teachings and meditation in a group of hundreds or thousands of people. They are truly unique and powerful.
The events vary in length from two days to two weeks, but whatever their duration they all offer a vacation with a difference – a chance to break free from the hectic routines of daily life and focus on the things that really matter. You will come away not only refreshed and relaxed but also spiritually re-energized.
Our Founder
Venerable Geshe Kelsang Gyatso Rinpoche is the founder of the New Kadampa Tradition-International Kadampa Buddhist Union (NKT-IKBU). He is a remarkable and humble Buddhist monk dedicated to helping people throughout the world find true happiness in their hearts through the practice of meditation. Venerable Geshe-la is a fully accomplished meditation master and internationally renowned teacher of Buddhism. In his teachings he emphasizes the importance of meditation, how to practise in daily life, be truly happy and cultivate a good heart. He demonstrates these qualities perfectly in his own life.
Venerable Geshe-la has created the tradition of NKT International Buddhist Festivals where he has spent many years giving teachings and empowerments to thousands of people from all over the world.
Born in a remote village high on the Tibetan plateau he ordained as a Buddhist monk at the age of eight and spent the next twenty years studying the teachings of Buddha in the great Tibetan monasteries. After concluding his studies he entered a life of meditation, engaging in deep retreat at first near the Nepali border and later in the mountains of northern India, where he soon developed a reputation as a great meditator.
After almost twenty years in retreat, in 1977 at the request of his own Spiritual Guide, Kyabje Trijang Dorjechang, Geshe Kelsang accepted an invitation to teach at Manjushri Kadampa Meditation Centre in England, where he lived for many years giving teachings and guidance to an ever-growing group of disciples.
Geshe Kelsang has founded over 1200 centers in 40 countries around the world, created three unique study programs, trained hundreds of qualified teachers and established a flourishing ordained community. He has inspired a project to build Buddhist Temples for world peace in every major city in the world and published 22 highly acclaimed books on Buddhism and meditation.
Though he has now formally retired as Spiritual Director, even at the age of eighty-four he continues to work tirelessly to spread the precious teachings of Kadampa Buddhism throughout the world, with the intention that each and every living being will eventually experience the supreme permanent mental peace of enlightenment.
General Spiritual Director
Gen-la Kelsang Dekyong is the General Spiritual Director of NKT-IKBU and Resident Teacher at Manjushri KMC. She has been a student of Venerable Geshe Kelsang Gyatso for thirty years and is a highly experienced Buddhist Teacher who has taught at many different centres internationally. Gen-la Dekyong's teachings, humor, and kindness exemplify the essence of the Buddhist way of life.
Before her appointment as General Spiritual Director she was the National Spiritual Director of the USA. She is a very powerful Teacher able to make Buddha's teachings easily accessible and shows through her example how to integrate these teachings into daily life.
Each year, Gen-la Dekyong teaches at the International Festivals, National Festivals, and temple openings throughout the world.
Deputy Spiritual Director
Gen-la Kelsang Jampa is the Deputy Spiritual Director of the New Kadampa Tradition – International Kadampa Buddhist Union (NKT-IKBU) and Resident Teacher of International Kadampa Retreat Center - Grand Canyon.
Gen-la Jampa has been a student of Venerable Geshe Kelsang Gyatso for many years and under his guidance has taught at many centers and events internationally. Gen-la is well-loved for his clear and inspiring teachings, and his ability to touch people's hearts through his sincerity and loving-kindness.